Golden Valley Industries is now offering Grass Fed Beef Marrow Bones to make the best homemade Bone Broth!
Our single-ingredient Grass Fed Beef Marrow Bones are processed in a USDA facility and contain no hormones, antibiotics, additives or preservatives giving you the cleanest and most nutritious ingredients to make homemade bone broth, a staple in today's diet!
"Best Bones for your Broth!"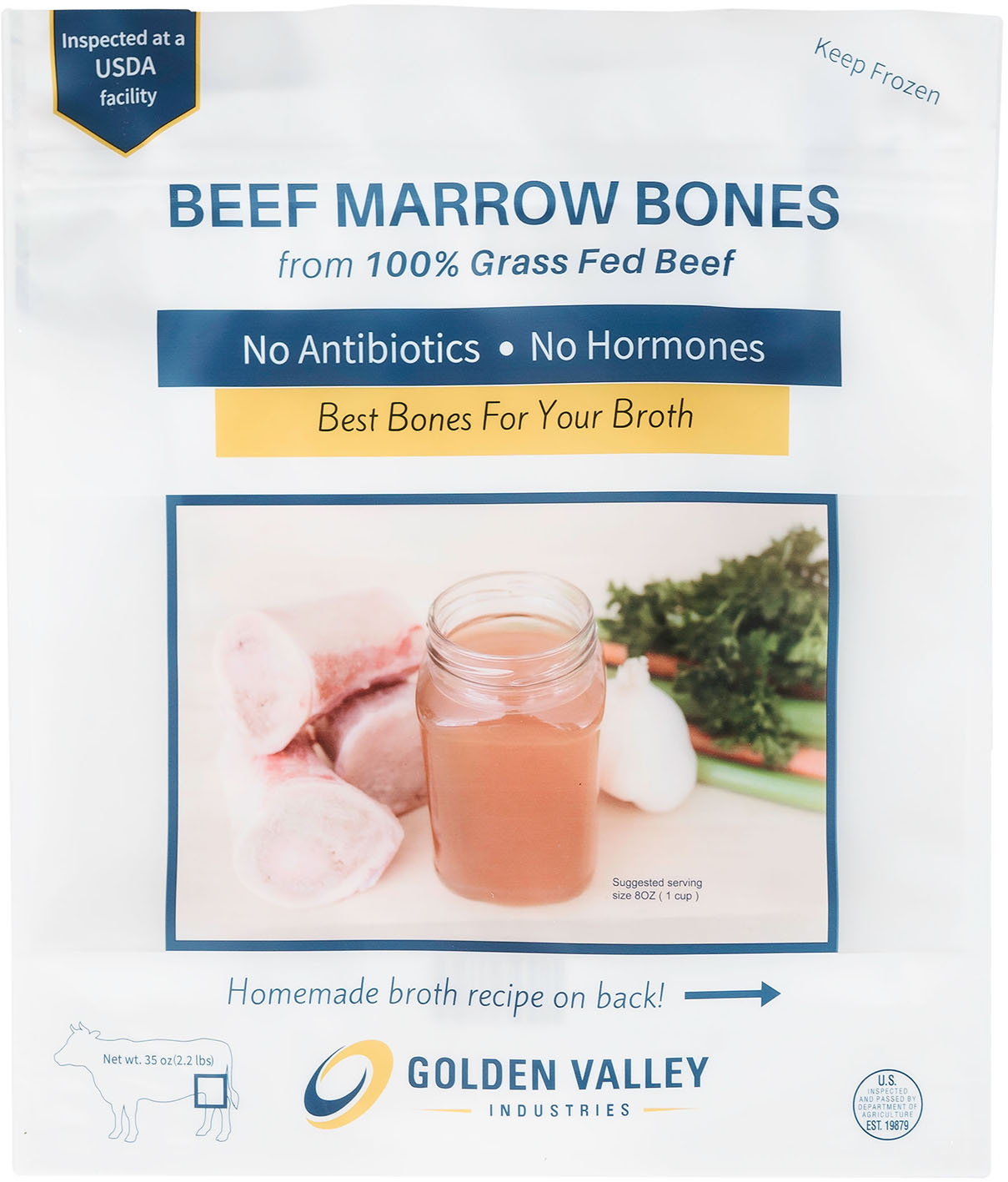 Health Benefits
---
Good for the gut (Leaky Gut Syndrome)

Helps brain health clarity and awareness

Aids in food intolerances and allergies

Improves and protects joint health and promotes healthy bones  

Stimulates the immune system

Simmering the bones releases healing compounds such as: collagen, proline, glycine and glutamine

Maintains healthy skin (collagen) and shiny hair

Detoxer and cleanser

Aids in Metabolism
*Paleo + Keto + Whole30 approved


Ways To Enjoy Your Bone Broth
---
Warm it up and drink it daily for nutritional health benefits

Base for soups, stews, gravies and sauces

Saute veggies in broth for added nutrition

Make a marinade

Use it as a substitute for water when cooking grains (rice, quinoa, risotto, pasta, etc)

Mask the flavor by putting a shot in your daily smoothie

Freeze for a later time
Recipes
---
Homemade Beef Bone Broth
Makes 16 Servings | 1 Serving (1 Cup)
Ingredients:
1 Package of GVI Grass-Fed Beef Marrow Bones
2 Carrots
2 Celery Stalks
1/2 Onion
2 Garlic Cloves
1/2 TSP. Pepper
1 TBSP. Salt
4 Quarts Filtered Water
1/2 TSP. Dried Rosemary
1/2 TSP. Dried Thyme
4 Sprigs Parsley
1 TBSP. Apple Cider Vinegar
Step 1: Roast the bones straight from the freezer at 400 degrees for 20 minutes.
Step 2: Place all ingredients in a 6 quart or larger pot. Let simmer on low for 18-20 hours.
Step 3: Strain the broth and add salt to taste. Store in fridge.
Stay Connected
---
Check back for more seasonal recipes!
Follow us on Instagram @GoldenValleyIndustries and share your bone broth photos with us on social media by using hashtag #GoldenValleyIndustries
Email: info@goldenvalleyindustries.com